Quality & Performance Measures
Quality and performance measures are used to measure whether evidence-based treatment and surveillance guidelines are followed, as appropriate, and to assess the results of care and health outcomes.
AGA's commitment to quality​
AGA supports gastroenterologists in providing high quality care via improved patient outcomes, increased efficiency and cost-effectiveness. AGA has been instrumental in assuring that GI has a place at the table concerning quality, influencing the national agenda through developing, specifying, maintaining, testing and implementing quality measures, and through membership and participation in the Physician Consortium for Performance Improvement, the Centers for Medicare and Medicaid Services (CMS) Quality Payment Program and other national organizations.​
AGA has been a leader in performance measurement since 2006 and has developed measures for several digestive health conditions and clinical topics including: colorectal cancer (CRC) screening and surveillance, gastroesophageal reflux disease (GERD), hepatitis C (HCV) and other liver diseases, pancreatic/biliary diseases, and inflammatory bowel disease (IBD).
The AGA Institute Quality Committee (QC) provides clinical and methodological expertise and oversight for the development, specification, maintenance and testing of AGA's performance measures.
Performance measures methodology​
The QC follows a process for prioritizing and developing measures from AGA guidelines. A measure testing protocol is in development to guide how measures are tested for implementation. Periodically, the QC issues calls for new measure topics of interest to AGA members. Public comment periods are held to receive feedback from gastroenterologists and others interested in new AGA measures.
Performance measures testing​
Measure testing collaborative
The testing process includes accessing measure specifications for new measures developed by the AGA Quality Committee based on the most recent guidelines, providing detailed, qualitative assessments of measures' usability and feasibility, and providing de-identified data for analysis. 
We are seeking a minimum of 30 providers that are willing to participate in an ongoing basis for all digestive disease conditions.
 To qualify for a particular measure, you will need to meet a 10-patient threshold (the 10-patient threshold is the minimum number of patients that is allowed to be considered reliable for testing). If you are interested in joining the collaborative, please contact David Godzina: 
dgodzina@gastro.org
.
This pilot program provides members with an individual data report outlining their performance on AGA-developed quality measures.
Choosing Wisely was created to help physicians, patients and other health care stakeholders think and talk about overuse or misuse of health care resources in the U.S.
Five things physicians and patients should question
For pharmacological treatment of patients with gastroesophageal reflux disease (GERD), long-term acid suppression therapy (proton pump inhibitors or histamine2 receptor antagonists) should be titrated to the lowest effective dose needed to achieve therapeutic goals.
Do not repeat colorectal cancer screening (by any method) in average-risk individuals for 10 years after a high-quality colonoscopy that does not detect neoplasia.
Do not repeat surveillance colonoscopy for at least five years for average-risk patients who have one or two small (<1cm) adenomatous polyps, without high-grade dysplasia or villous histology, completely removed via a high-quality colonoscopy.
For a patient who is diagnosed with Barrett's esophagus, who has undergone a second endoscopy that confirms the absence of dysplasia on biopsy, a follow-up surveillance examination should not be performed in less than three years as per published guidelines.
For a patient with functional abdominal pain syndrome (as per ROME III criteria) computed tomography (CT) scans should not be repeated unless there is a major change in clinical findings or symptoms.

Colonoscopy is the most accurate test for cancer of the colon and rectum, proven to detect the disease early and save lives. But even a very good test can be done too often. Here's when you need it, and when you might not.
Advice on using Nexium, Prilosec and related drugs carefully.
Modules with scenarios to help you practice guideline-based medicine.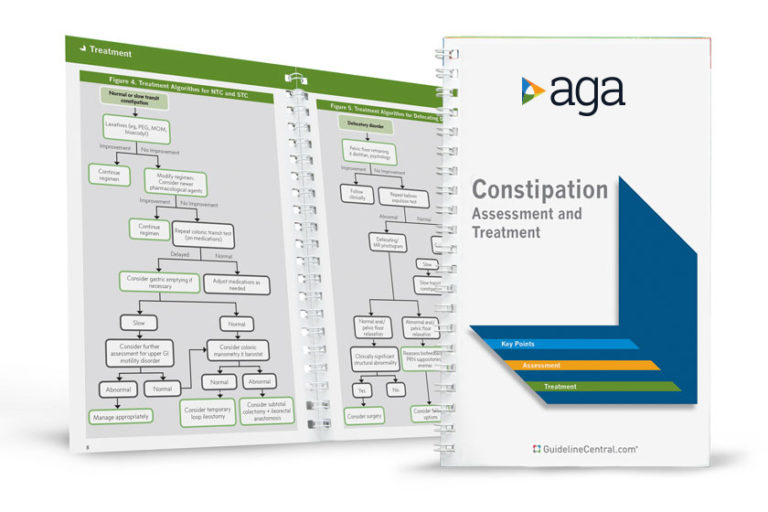 Official AGA Institute quick-reference tools provide healthcare providers and students with instant access to current guidelines and clinical care pathways in a clear, concise format. AGA Institute pocket guides are available in print and digital form.
Join the fight for the future of GI
The AGA PAC works to obtain reasonable Medicare reimbursement rates, increase federal funding for biomedical research, encourage medical liability reform and ease regulatory burdens on gastroenterologists.