It's been more than a year since SARS-CoV-2 testing was implemented routinely before medical procedures, such as endoscopy. AGA has now updated its July 2020 recommendations regarding pre-procedure testing. Based on the latest available data, routine COVID-19 testing prior to endoscopy is no longer needed to perform endoscopy safely.
Read on for four key points from AGA's newest, evidence-based COVID-19 clinical guidance. Review the full Rapid Recommendations document, published in Gastroenterology.
Key guidance for gastroenterologists:
Routine SARS-CoV-2 testing prior to endoscopy is no longer needed to perform endoscopy safely: Our systematic review found that there is little benefit in routine testing, given very low rates of infection (i.e. asymptomatic prevalence and transmission) during endoscopy to both patients and staff (0-0.5% across representative studies), with potential significant burden, including delays in care, impact of cancer burden, cost, health disparities and reduced endoscopy efficiency. Previously identified benefits of testing, including informed rationing of personal protective equipment (PPE) and patient and staff reassurance, have less relevance given adequate supply of PPE and reduced anxiety in later stages of the pandemic.
Vaccination status should not dictate decision-making for implementing pre-procedure SARS-CoV-2 testing: The studies included in our review were conducted prior to vaccination and show minimal benefit of testing as outlined above. While indirect data show that vaccination reduces that risk even further, the available evidence supports eliminating pre-procedure testing regardless of vaccination status of patients.
All patients should receive symptom screening prior to endoscopy: Centers should continue to implement universal screening of patients for COVID-19 symptoms, using a screening checklist, and follow universal precautions, including physical distancing, masks and hand hygiene in the endoscopy unit. For patients who have a positive symptom screen, pre-procedure testing can then be utilized for further triage.
For centers that value the small benefits (patient and staff reassurance or anxiety) over the downsides (delays care, potential exacerbation of health disparities, endoscopy efficiency, downstream consequences of false negatives and false positives), pre-procedure testing with rapid PCR tests can be considered: Rapid RT-PCR tests that can be performed on the day of endoscopy are preferable as they pose less burden to patients. In the pre-procedure setting, there is limited utility of rapid isothermal tests or antigen tests. There is no role for antibody tests in this context.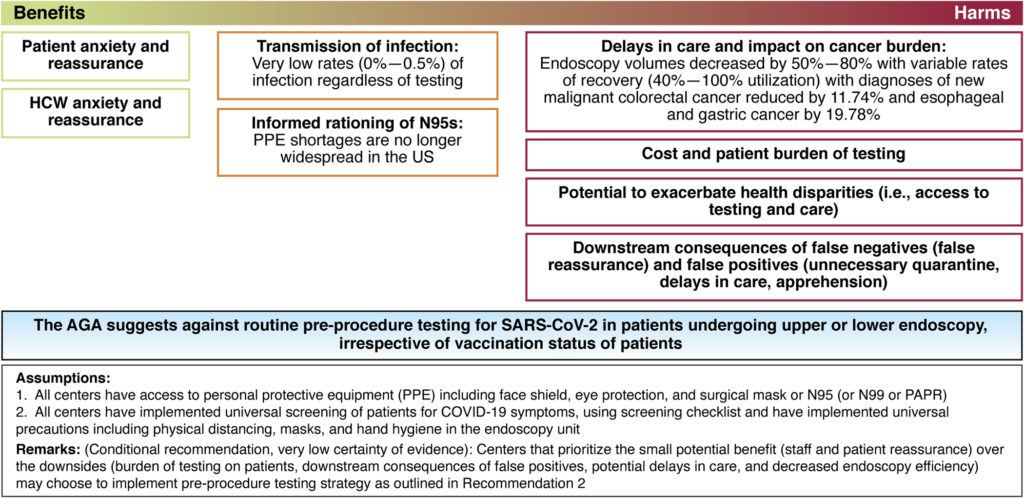 Help spread the word about this new guidance